Table of Content
How to hide likes on Instagram
How to track likes on Instagram (even if they're hidden)
Importance of hiding Instagram likes
How to hide likes on Instagram
Do Instagram likes matter anymore today? Instagram now allows all users to conceal or show the like count. Instead of the standard numerical figure displayed beneath a photo, it just names a few individuals and adds "and others." Hiding Instagram likes gives users greater privacy and a more focused, authentical social media experience.
Here's how you can hide likes on your Instagram posts:
Open Instagram: Launch the Instagram app on your mobile device.
Go to your Profile: Tap on your profile icon in the bottom right corner of the screen.
Open Settings: Tap on the three horizontal lines in the top right corner of your profile to open the menu, then select "Settings and privacy."
Scroll down to find and tap on "Like Count."
Hide Like and View Counts: Toggle on the option "Hide Like Count."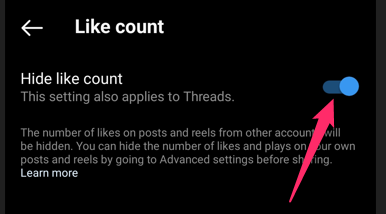 How to track likes on Instagram (even if they're hidden)
Even if neither you nor anyone else can view your preferences publicly, you monitor them internally to measure your progress. Instagram's in-app analytics solution provides a quick view of your account's numbers, such as how many accounts you've contacted, your audience's demographics, how your follower count is increasing — and how many likes your posts receive.
To use Instagram Insights, you must have a Business or Creator profile free and straightforwardly to convert to: click on Settings, Account, and then convert account type).
Importance of hiding Instagram likes
Hiding Instagram likes is critical for creating a better and more authentic social media experience. Users are relieved from the continual urge to collect large numbers by hiding like counts. This paradigm change pushes people to produce material that speaks to them rather than chasing popularity based only on numerical measures. As a result, this transformational element fosters an environment in which creativity may flourish without the weight of external confirmation.
Furthermore, this shift leads to a deeper degree of engagement. When followers' likes are disguised, they are more likely to connect with information based on personal affinity rather than just following the crowd. This shift in behavior encourages actual dialogues, comments, and discussions, eventually improving users' feeling of community.
Perhaps most importantly, concealing likes adds significantly to mental well-being. The public exhibition of preferences can frequently lead to feelings of inadequacy and a continual sensation of inadequacy. By embracing this modification, individuals are relieved of the worry and tension associated with seeking external approval. This increased flexibility enables people to concentrate on generating material that brings them delight and corresponds to their interests. In summary, concealing likes marks a positive shift in how users interact with Instagram, emphasizing honesty, connection, and personal well-being above everything else.
FAQS
1. Can I hide likes on all my Instagram posts simultaneously?
Yes, you can hide likes on all your Instagram posts by adjusting the settings in your account.
2. Will I still be able to see the like count on my posts if I hide it?
Yes, even if you hide likes, you can still see the likes count privately. However, it won't be visible to your followers or the public.
3. Will hiding likes affect engagement on my posts?
Hiding likes may lead to more genuine engagement, as followers are likelier to interact based on personal interest rather than following the crowd. It can foster more meaningful conversations and discussions.